After a long day at the office, you probably like to unwind. But what if you still need to come up with a new marketing plan, hit the gym and make dinner?
If you're a podcast listener, the solution is obvious. Listen to your favorite episodes to get expert real estate tips and tricks while you work out or chop vegetables.
The abundant selection of real estate podcasts makes it easy to keep up with real estate industry developments, even when you're short on time.
But if you're new to podcasts, don't worry — Amitree has put together the ultimate real estate podcast guide, complete with our favorite picks for 2022. Read on to learn more.
Real Estate Podcasts for New Agents
Podcasts are more popular than ever, with half of households being listeners according to Nielsen.
Unlike a regular radio show, you can listen to podcasts on your schedule. Many agents download or stream episodes to listen to during commutes, workouts, or while doing errands.
For agents, a podcast is a great way to hear what's new, pick up useful tips and invest in your professional development. Real estate podcast topics include tips for new agents, interviews with experts, market trends, career coaching and real estate investment.
Below, you can check out our favorite picks for real estate agents, brokers and teams in 2022.
Great All-Around Real Estate Podcasts for New Agents
The Agents of Change Podcast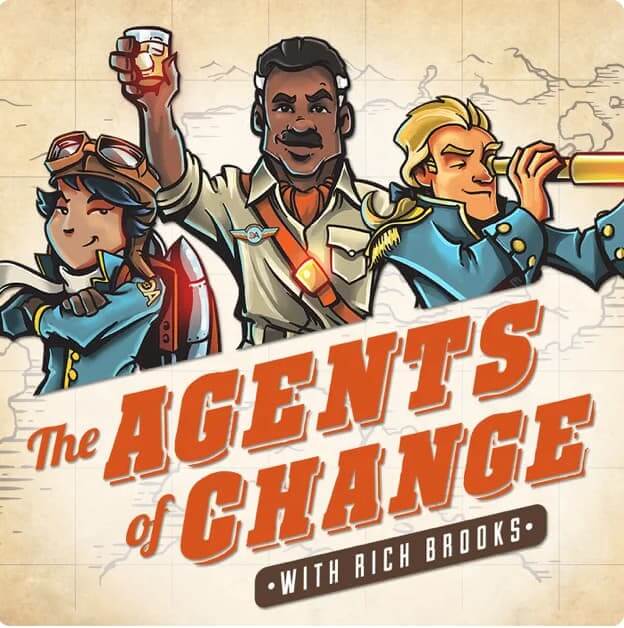 The Agents of Change podcast is full of marketing tips to increase your online visibility, drive qualified web traffic and grow your business. Host Rich Brooks interviews a new marketing expert each week for their SEO, social media and mobile marketing advice.
Bare Naked Agent Podcast
Bare Naked Agent Podcast uses a Q&A format to help real estate agents with marketing, sales and career questions. Even though host and bestselling author Pat Hiban has moved on to two other podcasts on this list, the BNA archives are still a great resource for agents.
The Massive Agent Podcast
The Massive Agent Podcast is a top-rated pick. This podcast covers all things real estate from lead generation to home sales, social media marketing, and virtual tours. Host Dustin Brohm and a rotating roster of guests have weekly tips for both agents and loan officers.
Best Real Estate Investing Podcast Advice Ever With Joe Fairless
Yep, that's really the name of Joe Fairless's top podcast covering real estate investing, business, commercial property and other topics. This one features house flippers, renters, builders, investors and more. It's great whether you're an investor, agent or entrepreneur.
Rev Real Estate School Podcast
Rev Real Estate School host Michael Montgomery offers real estate agents actionable tips on business, sales, marketing and social media. This is one of the best real estate podcasts for new agents and offers career advice to help reach a goal of 50 deals/yr.
The Tom Ferry Podcast Experience
Podcast Experience host Tom Ferry has over 30 years in the real estate business and is considered a number-one real estate educator. His podcast teaches agents and brokers the tips and tricks used by some of the world's most successful real estate agents.
The Margaritas and Video Marketing Show Podcast
On The Margaritas and Video Marketing Show Podcast, host George Cuevas teaches agents how to maximize their photo and video marketing efforts, while sipping margaritas. As an agent turned pro videographer, Cuevas offers agents a unique insight into the art of visual marketing.
Keeping It Real Podcast (by Real Geeks)
Keeping It Real works as a hangout where real estate professionals share tips and tricks on business, sales, marketing and technology. Created by the Real Geeks real estate tech company, recent episodes include interviews, roundtable talks and even roleplay segments.
Expert Real Estate Podcasts for Agents and Brokers
Super Agents Live Podcast
Super Agents Live features some of the top real estate agents with $50 million or more in annual sales with tips to take your business to the next level. Host Toby Salgado helps break down the sales and persuasion tactics needed for agents to reach the same level of success.
Real Estate Rockstars Podcast
Pat Hiban's weekly Real Estate Rockstars podcast features interviews with some of the top performing agents in the business. And they really get into the details, with recent episodes talking paid leads strategy, building your agency, and choosing the perfect niche.
Unlisted with Brad Inman Podcast
In Unlisted, Inman Media founder Brad Inman talks with top real estate industry leaders with the goal of helping inspire and motivate agents. Episodes include heavy-hitters, such as the heads of StreetEasy, DocuSign and Realogy, plus top brokerage managers from around the country.
News and Trends Real Estate Podcasts for Industry Pros
State of the Market
Veteran podcaster Pat Hiban's latest project, State of the Market, delves into the real estate market happenings with insightful commentary and guest experts. The podcast covers topics like taxes, regulations and politics that could impact the local markets.
Real Estate Today Podcast
Real Estate Today is the National Association of Realtors' weekly podcast. It's geared towards homebuyers, investors and agents who want to keep up with the latest news. Host Stephen Gasque covers industry trends, market movements, buying and selling advice and more.
The Kevin and Fred Show
The Kevin and Fred Show, formerly the Next Level Agents Podcast, features tips, news and interviews with top experts in the real estate industry. Hosts Kevin Kauffman and Fred Weaver produce weekly content that's consistently one of the top-rated podcasts on Apple Podcasts.
Coaching Real Estate Podcasts for New Agents or Old Pros
Kevin Ward's YES Talk Podcast
In the YES Talk Podcast, top speaker and real estate trainer Kevin Ward delivers high-octane coaching to residential agents who want to become a top-producer. Each episode features sales, marketing and business advice to improve your skills, strategy, and mindset.
Jared James Today Show Podcast
In the Jared James Today Show Podcast, host Jared James offers practical tips to help real estate agents increase sales. As a renowned entrepreneur, speaker, author and real estate coach, James has a lot to say about building a successful real estate business.
Real Estate Coaching Radio Podcast
Real Estate Coaching Radio Podcast is one of the top industry podcasts, with coaching advice, industry news and interviews from notable experts. This podcast broadcasts every day, with hosts Tim and Julie Harris, who are top real estate coaches and best-selling authors.
GSD Mode Podcast
GSD Mode Podcast interviews top agents, entrepreneurs, and others who dominate their space. It offers agents coaching tips for their lead generation, sales and marketing. Host Joshua Smith takes a unique approach with hip-hop beats, informal style and can-do attitude.
Favorite Real Estate Podcasts for Investors
Cashflow Diary Podcast
Cashflow Diary Podcast is one of the top picks for real estate investors. Host J. Massey is an investor, entrepreneur, coach, instructor and master facilitator of Robert Kiyosaki's Cashflow 101 games. This podcast covers winning strategies for just about every aspect of real estate investing.
BiggerPockets Podcast
BiggerPockets Podcast offers the chance to grab a beer with top real estate investors and entrepreneurs to hear their stories and insight. Hosts Brandon Turner, David Greene and Joshua Dorkin provide actionable advice and tips on the fundamentals of real estate investment.
The Real Estate Guys Podcast
The Real Estate Guys Podcast started out as a conventional weekly radio show all the way back in 1997. The podcast delivers fun, fast-paced info on topics you won't find anywhere else. It is hosted by professional investor Robert Helms and financial strategist Russel Gray,
Subscribe to Your Favorite Real Estate Podcasts
That's it for our top real estate podcasts 2022 favorites. Be sure to subscribe to your favorites to stay up to date with industry developments easily during your your commute, at the gym or around the house.
And don't forget to check out our other great articles with helpful tips and best practices for real estate agents.
Who we are
We've built Folio: the first AI email assistant for professionals.

Folio plugs directly into your work email inbox and automatically organizes your email, giving you contextual access to all the information you need to increase your productivity in minutes.

We are a team of passionate product people and engineers that gets excited about solving complex processes and creating value for people.

We're a venture funded company backed by Accel Partners, Vertical Venture Partners, and other leading venture capital firms and angel investors such as Ash Patel and Jerry Yang.